unbeatable thermal performance
and fire protection (BAL40)
• Direct-to-Frame System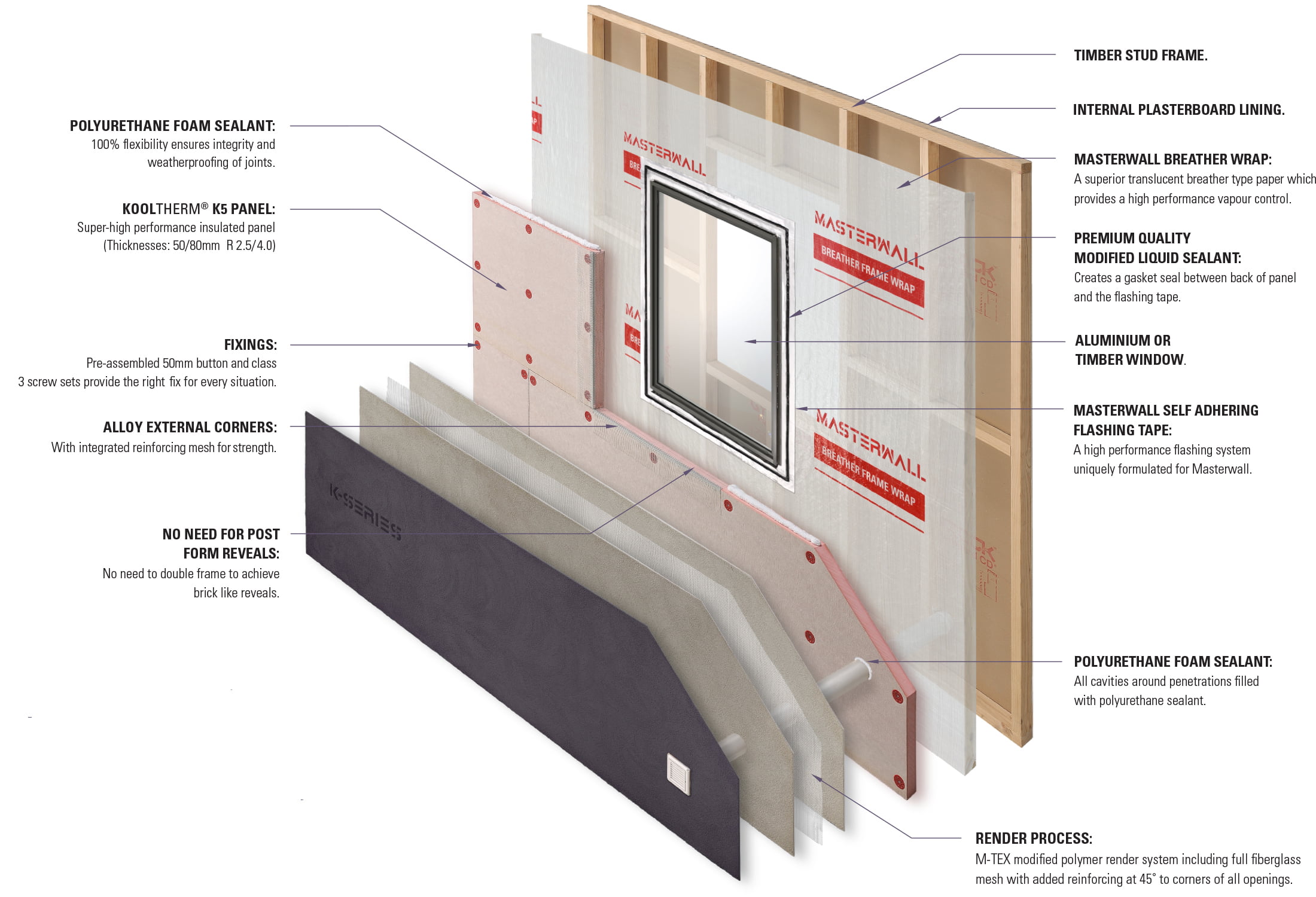 Overview
K-Series has been formulated for both residential and commercial markets as a complete external insulation cladding system for projects requiring a super-high performance, architectural finish.
Powered by Kooltherm® panels by Kingspan and Masterwall's innovation and technology, K-Series achieves better thermal and fire performance than any other system.
K-Series addresses complex design issues with environmental responsibility.
• Uncoated Panels
• Codemark accredited
• Fully engineered
• Kooltherm® phenolic panel
• Up to BAL 40 protection from bushfires
• Up to Total R Value R 4.4
• Integrated air, moisture and drainage control
Sizes & Thicknesses
Standard Panel Size: 2400mm x 1200mm
Nominal Thickness: 50mm, 80mm
Area: 2.88m2
Thermal Performance
Panel Thickness
Material R-value
Total R-value (Winter)
Total R-value (Summer)
Total R-value (Winter)
Total R-value (Summer)
Timber Framing
Steel Framing
50mm
2.4
2.9
2.7
2.8
2.7
80mm
3.9
4.4
4.1
4.2
4.1
All thermal calculations are compliant with Australian Standard AS/NZS 4859.1:2018 (published 19/11/2018) which now include the allowance of thermal bridging of the timber/steel frame.
Learn More
Download our publications.
For sales and technical advice:
03 9799 6565